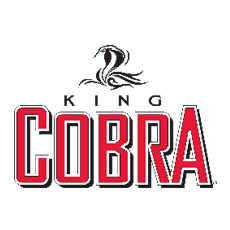 King Cobra
About King Cobra
King Cobra is an American malt liquor with a robust and full-bodied, smooth, clean taste. Contract brewed for Cobra Beer, formerly by Kielce Brewery and Rodenbach together, now only at Palm / Rodenbach.
Sold as Krait Prestige Champagne Lager in North America.
Double fermented to be twice the beer, King Cobra is a unique lager, specially brewed to be extra smooth.
ABV: 6.00%