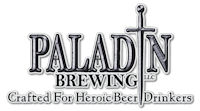 Paladin Brewing
About Paladin Brewing
Located in Austintown, Ohio!
My name is John Chandler, my wife (Abby, who owns CWC Productions) and I have lived in the Youngstown area our entire lives. We have 4 wonderful children. I have been brought up to be a very family oriented person with a large extended family, many of whom still live locally. Born and raised in the Youngstown, Ohio area, I have pride in where I live and the surrounding communities and am excited to create my own business which would allow me to give something back to the area.
I started brewing beer at home in 2008 when I was given a "Mr. Beer" kit as a gift from my in-laws. The selection of beers in our area left me looking for something more and making my own allowed me to experience a much wider flavor base. A trip to Colorado in 2010 sparked the dream of opening a craft brewery in our area. A lot of time has passed since the idea of becoming a brewery owner was first planted. We spent months choosing a name and almost a year finding the perfect location. We were able to open the brewery on August 22, 2015 to amazing support from the Youngtown community! The dream has become a reality!