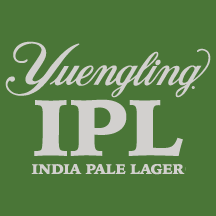 Yuengling IPL
About Yuengling IPL
COMPLEX HOP FORWARD STYLE
After brewing traditional lagers for over a century, it's time to spice things up!
Introducing Yuengling® IPL or India Pale Lager, a well-balanced lager that shows
off an unexpected mix of hops. This isn't just a hopped up lager, but a truly unique
brew with a crisp, clean character bursting with complex hop notes.
The blend of 2 row malted barley and aromatic specialty malt provides the base and
complements the fruity notes from the Bravo hops, tropical notes from the Belma
hops, citrus notes from the Cascade hops and strong floral notes from the Citra hops.
Dry hopping after fermentation imparts an appealing citrus aroma.
With its hop-forward style, Yuengling IPL is redefining the limits of what a lager can be.